OCR Autoclave Repair: The Case of the Mysterious Door Leak
Any time there is a leak around the door on the Pelton Crane OCR Autoclave, everyone automatically assumes it is due to a faulty door gasket
And for the most part, they are usually right
But what if replacing the door gasket doesn't fix it?
Here is how to find & fix the problem
What To Do If Replacing The Door Gasket Doesn't Fix the Pelton Crane OCR Steam Leak Around the Door
First, Even if you just replaced it, let's make sure you did not get a defective (or used) door gasket. Most door gaskets will look like new, even when they are old & well used. The fact of the matter is, they don't really wear out
The real problem is they will actually shrink a little bit. Not enough that you can notice the shrinkage, but enough to allow steam to get by. So just inspecting the door gasket won't tell you whether it is good or bad, unless it has a tear in it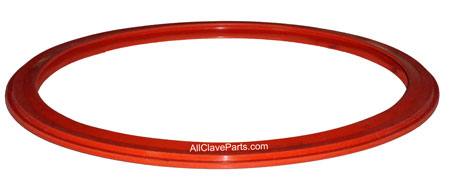 Regardless, remove the gasket from the door and make sure the grove it fits in is clean, as well as the mating surface on the cabinet. It doesn't take much, a little debris can cause it to leak
Also, wipe down the door gasket before re-installing it to remove any debris that may have stuck to it
If you need a new one, click here to make sure you get a new, High Quality OCR Door Gasket
Now try a cycle, and make a note of where the steam is escaping from around the door. Then rotate the gasket & try another cycle
If the steam follows the rotation, then the problem is with the door gasket. Replacing it with a new one should eliminate the problem
But what if the steam leak does not follow the gasket when you rotate it…then what?
Probable Cause
There are several possible causes
Open the chamber door 90°
Lift up on the door
If the door tilts in, or moves, then the hinge pins have worn and need to be replaced. This is the most common problem next to the door gasket. However, if the door is solid and does not move, then go to step 4. You can Click Here For Replacement Hinge Pins.
Remove the cabinet. Towards the front of the chamber, about midway up, there is a U Shaped Bracket on each side that holds the chamber in place as shown in the picture below. Make sure the bolts have not loosened. Make sure the brackets have not slipped from their place. If needed, move brackets back into place and then re-tighten the bolts. Repeat for other side of chamber.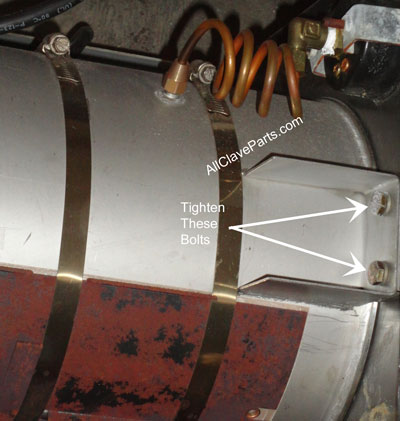 These steps should resolve about 99% of the causes for steam to be leaking around the door on your Pelton Crane OCR autoclave. But, if it doesn't solve your problem, just let us know